En esta
web
hay una apartado dedicado a esta película:
(
English text
)
| | |
| --- | --- |
| RAINTREE COUNTY | |
MGM, 1957. Directed by Edward Dmytryk. Camera: Robert Surtees. With Montgomery Clift, Elizabeth Taylor, Eva Marie Saint, Nigel Patrick, Lee Marvin, Rod Taylor, Agnes Moorehead, Walter Abel, Jarma Lewis, Tom Drake, Rhys Williams, Russell Collins, DeForest Kelley, Myrna Hansen, Oliver Blake, John Eldredge, Isabelle Cooley, Ruth Attaway.
In the town of Freehaven in Raintree County, Indiana, the high school class of 1859 poses for a photograph. Everyone expects great things of valedictorian John Wickliff Shawnessy—in particular his sweetheart, Nell Gaither, who admires Johnny for his idealism, poetry and respect for truth and justice.
Before graduation, Prof. Jerusalem Webster Stiles, who smilingly describes himself as "pitiful and harmless," relates to his students a local legend. Raintree County is named for a golden raintree, which was planted somewhere in the region by Johnny Appleseed. Find it, declares the professor in an unusually pensive mood, and you will learn the secret of life itself. Johnny immediately sets out to locate the tree, but as he wanders through a swamp, he nearly drowns.
Back in town, Orville "Flash" Perkins boasts that, in addition to being "half horse, half alligator," he is the area's top runner. Johnny challenges him to a race, and on the Fourth of July, the two competitors meet in the street. Before the race, the men engage in a drinking contest, and although Johnny, who has never before drunk whiskey, is rendered nearly senseless, he nonetheless wins the race.
Later that day, Johnny goes to the river for a picnic with the professor, an attractive married woman named Lydia Gray, and a beautiful visitor from the South named Susanna Drake. Johnny and Susanna go swimming, and then, in a moment of passion, make love. The next day, Susanna returns to New Orleans, and Johnny returns to Nell.
When Stiles tries to run away with Lydia, her outraged husband Ezra tries to shoot him, but after Stiles swears that he never touched Lydia, Johnny helps the professor to leave town. The same train that carries Stiles to safety, however, brings Susanna back to Freehaven with a desperate message for Johnny: she is pregnant. Johnny announces their marriage, whereupon his father, T.D. Shawnessy, a gentle and educated minister, somewhat sadly wishes the young man happiness. Nell also wishes him well but tearfully confesses that she still loves him.
On the boat trip to New Orleans, Susanna is shocked to discover that Johnny is an abolitionist and nervously proclaims that nothing is worse than having a drop of Negro blood in one's veins. The couple visits the ruins of a family plantation that burned when Susanna was a child. Acting strangely, Susanna sorrowfully declares that she dearly loved her former nanny, a black Cuban named Henrietta Courtney, who perished with the girl's parents in the conflagration. Johnny questions Susanna's cousin and learns that after her parents were married, her mother went slowly insane. Her father met Henrietta and brought her home to care for little Susanna. When the bodies were taken from the fire, it appeared that the child's father and Henrietta had been shot, but no one was able to prove this.
Johnny brings Susanna back to Raintree County, where he becomes a teacher. Susanna admits that she was never really pregnant, but Johnny assures her of his love nonetheless. When Lincoln wins the presidential election, Susanna announces that to please her husband, she has freed her two slaves and now pays them wages. This prompts several of their guests to laugh, and Susanna, believing she has again displeased her husband, becomes hysterical. Johnny calms her, but later, after giving birth to a son on the very day that Civil War is declared, Susanna informs him that two babies were born, and that "they" threw the dark one away.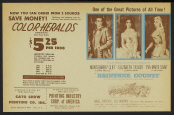 | | | |
| --- | --- | --- |
| | | |
| | | |
| | | |
Several years later, Nell returns to Freehaven after living for a time in Indianapolis, and it is clear that she still loves Johnny. Susanna's nightmares and wild-eyed outbursts have become more frequent, and one evening, Johnny persuades her to tell him about the fire. Jealous of Susanna's love for Henrietta, the child's mother had flown into a rage, thereby angering the little girl. When Susanna realized that her father also loved Henrietta, she vengefully revealed this in an anonymous note to her mother. That night, she heard a crackling sound in Henrietta's room, and soon afterward, the fire consumed the house. Believing her mother had killed the lovers because of her note, Susanna had always felt responsible for the tragedy.
Johnny tries to comfort Susanna, but one day, he arrives home to find that she has taken their son Jim and fled to Georgia. With his wife gone, Johnny joins the Union Army, and as his train departs, Nell confesses that she has never stopped loving him. Johnny joins an Indiana brigade that includes not only Flash, but his old friend Stiles, who is now a war correspondent. The men participate in a number of hellish battles, and in November 1864, find themselves in Atlanta.
Wary of rebel snipers, Johnny and Flash approach an old cabin that once belonged to Henrietta. Inside are little Jim and two Drake slaves. One of them explains that although Susanna was not Henrietta's child, she always believed that she was. Consumed by madness, Susanna had been taken to an asylum some time earlier. Johnny carries little Jim toward the Union camp, but as they run through the woods, Flash is shot by rebel soldiers and dies.
After the war, Johnny finds Susanna in a wretched asylum and takes her home. He returns to teaching, but his friends believe he should run for Congress. Susanna realizes that it is she who holds him back, and that Nell still deeply loves him. That night, Susanna, telling Jim that she hopes to find the golden raintree for Johnny, says goodbye and runs toward the swamp. Alarmed, Jim follows her, and soon afterward, a search party is organized.
In the morning, Stiles, who has returned to Raintree County to marry the widowed Lydia Gray, discovers that Susanna has drowned. In agony, Johnny continues to search for his son. The weeping boy hears his father's voice, and with great relief, Johnny, Nell and Jim head out of the swamp, unaware of the tall tree gleaming golden in the sunlight.
Notes
The film is based on the novel Raintree County by Ross Lockridge, Jr. (Boston, 1948).
Onscreen credits acknowledge the cooperation of "the Baltimore and Ohio Railroad Company, the Tennessee State Game & Fish Commission at Reelfoot Lake and the people of the Commonwealth of Kentucky." The picture opens with a five-minute musical overture. Following "Johnny's" departure to fight in the Civil War, there is an intermission. Act Two begins as Johnny joins his brigade. The NYT review lists a running time of 168 minutes. Apparently, sixteen minutes of the film were cut after its premiere.
The picture was, as the Var reviewer notes, "one of the biggest and costliest (estimated at $5,000,000) productions from Metro since its release of David O. Selznick's Gone With the Wind." It took MGM six years to turn the novel into a screenplay. According to modern sources, shortly after the novel's publication, MGM purchased the film rights from author Ross Lockridge, Jr. for $150,000, but did not produce the film until 1956 because of script problems. Modern sources note that Raintree County was Lockridge's only novel, and that he committed suicide in 1948.
January and February 1956 HR news items note that MGM originally considered Alec Guinness and Arthur O'Connell for leading roles. Filming was halted after Montgomery Clift's automobile accident on May 13, 1956 and did not resume until July 23, 1956. In the accident, which occurred after Clift had been to a dinner party at Elizabeth Taylor's house, the actor's face was severely injured. Modern sources note that numerous facial lacerations and broken bones altered the structure of Clift's face so much that filming of his scenes after his return to the production was difficult. Modern sources also note that audiences frequently went to the film to make comparisons of "before" and "after" shots of Clift.
Raintree County was the first picture to be filmed using Panavision's "Camera 65" process. Most release prints, however, were issued as 35mm anamorphic prints. Actor Gardner McKay (1932 - 2001), who appeared briefly as a Union soldier, made his feature film debut in Raintree County. Most of the film was shot on location near Danville, Kentucky. Var reported that the swamp scenes were filmed at Reelfoot Lake, Tiptonville, Tennessee, and that mansions were photographed in Natchez and Port Gibson, Mississippi, while a June 11, 1956 HR article adds location shooting along the Ohio River, Ohio. The film received Academy Award nominations for Best Actress (Taylor), Best Art Direction, Best Score and Best Costume Design.
Music includes "The Song of Raintree County," music by Johnny Green, lyrics by Paul Francis Webster, sung by Nat "King" Cole.
Poster artwork courtesy of Cyrus